IPNetInfo is a small utility that allows you to easily find all available information about an IP address: The owner of the IP address, the country/state name, IP addresses range, contact information (address, phone, fax, and email), and more.

This utility can be very useful for finding the origin of unsolicited mail. You can simply copy the message headers from your email software and paste them into IPNetInfo utility. IPNetInfo automatically extracts all IP addresses from the message headers, and displays the information about these IP addresses.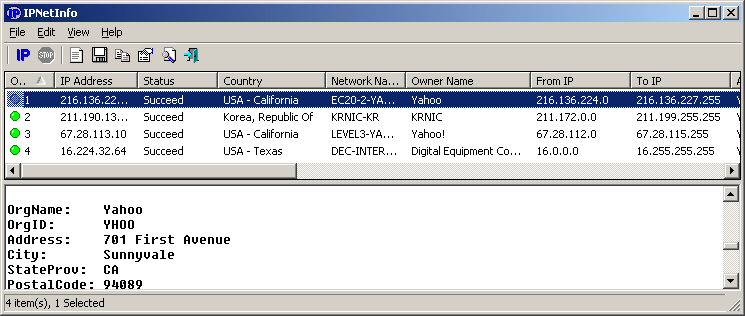 The IP address information is retrieved by sending a request to the whois server of ARIN. If ARIN doesn't maintain the information about the requested IP address, a second request is sent to the whois server of RIPE, APNIC, LACNIC or AfriNIC.

After the IP address information is retrieved, IPNetInfo analyzes the Whois record and displays it in a table.